The online 50 Lions slot machine is a world full of nature and wonder. The power of all these incredible creatures is yours for the chances of taking some hidden treasures. Developed by Aristocrat, there is nothing they love more than making reels with artistic effects, adding an extra flavour of culture and sophistication to an otherwise dull gaming slot. This one, for example, uses a 5×4 reel grid instead. The number of paylines you can win a combo on is also increased up to 50—one for every Lion of the Savannah. Meaning up to 50 cash prizes can be yours. That's as long as you guide these wayward animals to their full destination.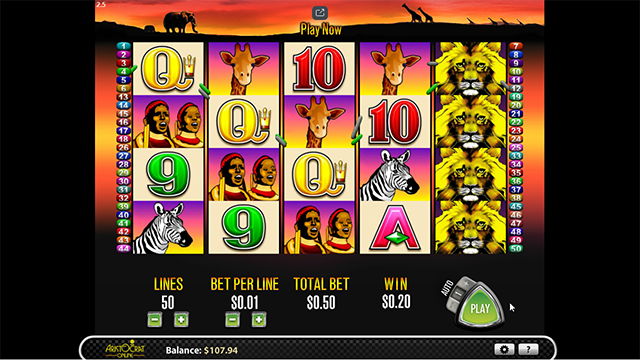 First Impression of 50 Lions Casino Game
The slot machine 50 Lions takes you to the glory of Africa where the glistening sun and shadows of the sunset overarch every nook and cranny. It creates a gorgeous landscape for you to get lost in as you enjoy your time here. The gameplay will reflect this wild landscape, as when you're spinning the reels, the shadows of the animals will continue to move. Above the grid, you will see many of their shapes and sizes. Travel to an unknown destination to uncover all the animals. The wheel on the grid will turn as the music plays. The symbols themselves will pop out to reveal the full majesty of the animals travelling. It is stunning to look at as well as to play.
To start and play 50 Lions slot game for real, registration with an online casino is needed. This allows you to turn real money into coins through an available payment method. Once bets are placed, the magic can begin. The aim is to try hitting a combination of three or more of the same symbol. The highest-paid combination streak will win, and there is up to 50 paylines to win on. The gameplay offers more features for you to get more chances of winning, either by increasing the size of the prize or just making better opportunities.
Combinations of Symbols and Their Payouts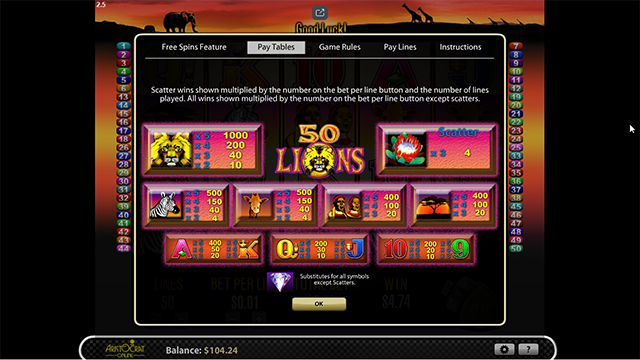 A paytable can show you exactly what you need. Gambling requires knowing exactly what each symbol is worth. The prizes will change depending on how much cash you have placed. The value of the coins can also change the bet as well. The minimum for this title is a total of $0.01. The maximum total coins that change your bet equals $200.00. Here is what you capable of winning if you make a bet of $10.00:
| | |
| --- | --- |
| Symbol description | Symbol value (3x to 5x) |
| 9, 10, J, Q | 10 – 200 |
| K, A, Tree, Tribesmen | 20 – 400 |
| Giraffe, Zebra | 4 – 500 (2x to 5x) |
| Lion | 10 – 1,000 (2x to 5x) |
Bonus Symbols and In-game Rounds
For the bonus features, here are some good ones to get you started.
The Wild symbol is very important. It can substitute for all other symbols in the game except for the Scatter. The Wild will be represented as a Diamond.
The Scatter will be represented as the Red Flower. This flower can only appear on the reels 1, 2 and 3. They are paid independently from the other symbols and don't need to be in a combination to trigger their feature. If you are able to land all three of them at once, you will be rewarded with free spins. The total number of free spins you will be given is ten. During this special bonus round, an additional Wild will be added to the reels. On reel 2, 3, 4 and 5, you can expect more combinations thanks to more Wilds appearing on the wheel. You can retrigger the free spins by collecting more Scatters. Continue for as long as you can to receive more Wilds and more prizes.
Play Demo Mode for Free
Play 50 Lions slots online for free without risking any of your real money in the process. The free online 50 Lions slot machine can be found from the operators, directly on their website. You can also find the free 50 Lions slot machine online on review sites like this one, for better convenience. What makes the 50 Lions free online slot work is that you can bet as many coins as you want without spending any cash. The demo is a great place to practise and enjoy the game without investing fully and suffering any losses.
For those ready to play the real 50 Lions online slot, important details are needed for reassurance. The RTP, for example, is calculated at around 94.71%. The volatility rating is set to low. This means that the game offers low-risk, low-reward gaming. This is perfectly fine for beginner players, but veterans may struggle to find a challenge. Casino sites can help make this better through their promotions. You can find yourself with more free spins to work with, bonus wheel rewards, cashback safety nets and more thanks to a casino offer. Choose the right one for you from a list of recommended places.
Playing on mobile devices is also not a bad place to start. Mobile devices can let you experience the product from anywhere, whether you are at home or simply on the move. Thanks to the full HTML5 support software, you can experience smoother gaming and better graphical quality on a smaller screen. Smartphones, tablets and other platforms are completely compatible. Download the game from an Apple or Android online store, depending on which device you are using. Gain instant access and even separate promotional offers too.
Should I Play 50 Lions?
While some may find the gameplay simple, there is beauty in its simplicity. The 50 Lions slots have what you need to get started in the world of online gambling—teaching you all of the basic fundamentals along the way. The low-risks mean that you won't need to worry too much about making significant losses. As long as you are having fun, 50 Lions is your perfect first step.
FAQ
Where can I play 50 Lions for real money?
A list of recommended casino places can be found online. Choose from a whole range of options with the best services catered towards you.
Which bonuses are there available in 50 Lions by Aristocrat?
The free spins mode allows more Wilds to appear, which increases your chances of winning far more than in the base game.
How can I switch to a 50 Lions real money game?
A demo may normally contain a link to a real money version. Unlike the demo, however, you will need to follow the instructions to sign up for it. This, however, doesn't mean any dealer to get in touch with.
Is 50 Lions safe to play?
Aristocrat has a license to operate in more than 30 jurisdictions. You can play safe and expect fair gameplay.
Can I play 50 Lions on mobile platforms?
The operators support full HTML5 software, meaning the games are completely compatible with mobile devices.