The online Couch Potato slot machine is a classic gambling grid created by software provider Microgaming. This brings you back to the heart of gambling with a simple 3×3 reel slot. Begin spinning the reels to experience wins just like the old days. Land all kinds of combinations on a single payline. Earn yourself the biggest rewards there are with double and triple value symbols. This game truly represents one of the laziest ways of winning that no one would blame you for. You can sit back and relax on your very own sofa whilst the symbols come crashing down.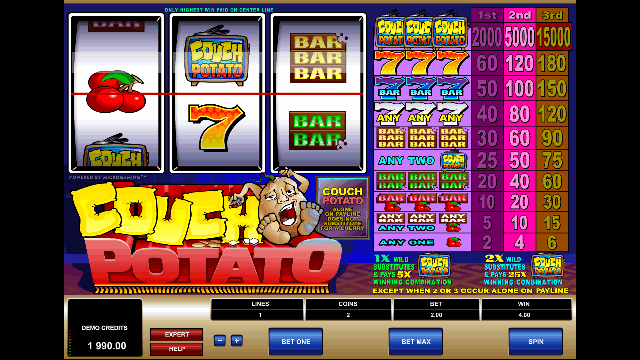 Couch Potato Casino Game Summary
The slot machine Couch Potato is all about kicking it back and living the easy life. The main character that you see from the moment you start the game shows this. He is a cartoon, bloated character who kicks off his shoes and sits back in his chair—signifying the life of a Couch Potato. Once you start spinning, the reel grid will show off a simple structure. The 3×3 layout with a very viewable wheel will show you everything you need to know. Just like the land-based slot machines you will find in real casino establishments.
To play Couch Potato slot game, you will need an online casino registration. This will allow you to turn cash into coins using payment methods. Once this is done, the gameplay can get started with your prepared bets. The aim of this slot is to land a combination. This includes the same symbol at least three times on the payline. Only one combination can be landed at a time due to the only payline. Score more symbols in the combo to award yourself a bigger prize. Slot bonus features may help you get better chances of hitting a winning streak.
The paytable can help when it comes to gambling. It can show you how much each symbol is worth. Depending on how many coins you place into the game, the values will change. A range of symbols will be available for you to land with. The minimum bet you can place is 1.00. The maximum bet you can place is a total of 15.00. Here is what you can win:
| | |
| --- | --- |
| Symbol description | Symbol value (1st, 2nd, 3rd) |
| Any one Cherry | 2, 4, 6 |
| Any two cherry or any BAR | 5, 10, 15 |
| Cherry BAR | 10, 20, 30 |
| Green BAR | 20, 40, 60 |
| Any two Logo | 25, 50, 75 |
| Triple BAR | 30, 60, 90 |
| Any 7 | 40, 80, 120 |
| BAR 7 | 50, 100, 150 |
| Lucky 7 | 60, 120, 180 |
| Triple Game Logo | 2,000, 5,000, 15,000 |
Bonus Features in the Couch Potato Online Slot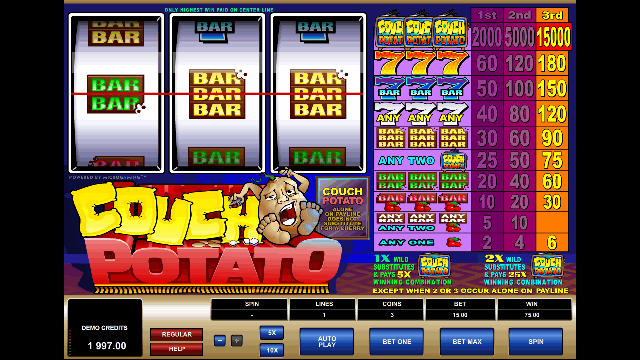 There are a few symbols that can be available to use in the base game. Bonuses can help create better chances of winning using unique symbols. The Wild symbol is your best bet at creating more opportunities. This is represented as the Game Logo. It can substitute all other symbols except for other feature symbols. What is even cooler is the multiplier that is also attached to it. Tumbling Wilds will mean you can gain even bigger prizes, as well as substitutions. Completing a payline with all three Wilds will reward the highest multiplier bonus and the biggest reward there is. In terms of other bonuses, there are no other options such as free spins or special spin modes.
Can I Play for Free?
Play Couch Potato slots online for free without risking any real money. The free online Couch Potato slot machine can be found from operators who are connected to the provider, Microgaming. The free Couch Potato slot machine online can also be found on review pages such as this one. The main benefit to playing the Couch Potato free online slot is so that you can practice as much as you want. Enjoy the demo gameplay using free coins, and don't worry about suffering any losses.
If you want to play for real cash, the right casino can be just for you. You must find one that is connected to the provider. Operators all over have exclusive deals that can be shown to you in a recommended list—some including a prize wheel or a welcome package. Statistics connected to the real version can also be found out. RTP is calculated at around 97.43%. Volatility is stated at a high rating. This means that there will be some risky plays involved, but ultimately some big prizes can be grabbed.
Play on Mobile
Mobile gaming is another important aspect. If you want to play on mobile devices, you can do it. HTML5 software is embedded into the slot by the provider. This means that you will suffer no downgrades in graphics, and the gameplay will run smoother than ever. You can download this version from any app store like Google Play or Apple. This will depend on which platform you are playing it on. Either way, optimization will be permitted so that it is better equipped for smaller screens.
Is It Worth Playing Couch Potato?
While it may be a simple kind of game, this is what makes it appealing. The simplicity is what can draw a lot of beginner gamblers into the business—presenting what makes slots so lovable in the first place. The many variations in symbols give you plenty to look for. The multiplier Wilds even make the gaming much more exciting too. All thanks to the great work of the provider, offering us that classic gambling feel.
FAQ
Where can I play Couch Potato for real money?
Find all of your favorite recommended casino sites to get you the best deals. This will let you get bigger prizes and gain more chances of winning.
Which bonuses are there available in Couch Potato by Microgaming?
Use the Wilds to gain more combinations. The Wilds will also have multipliers attached for bigger spin rewards.
How can I switch to a Couch Potato real money game?
The demo will have a link to a real money casino for you to access. These will have instructions for you that let you set up an account.
Is Couch Potato safe to play?
Casino using the correct license dealer, you can be ensured proper safety and security. This also means that all players will gain the exact same odds as anyone else.
Can I play Couch Potato on a mobile platform?
Mobile devices are the way to go for those who wish to play on the move. The correct software is compatible, letting you download it in app form.