Jackpot Block Party slot game is fun in a classic kind of way. It's bright, cheerful energy lets you relive the older style of slot machine gaming. New features add a new crazy twist into it. It's all set up like an amazing party. Take part in the gameplay now to have fun and compete for combo prizes. The Jackpot Block Party slot machine will have plenty for you to get involved with. This includes a birthday surprise bonus feature. Jackpot Block Party has up to 30 adjustable paylines and a 5×3 reel layout. Join the celebration and don't forget to smile.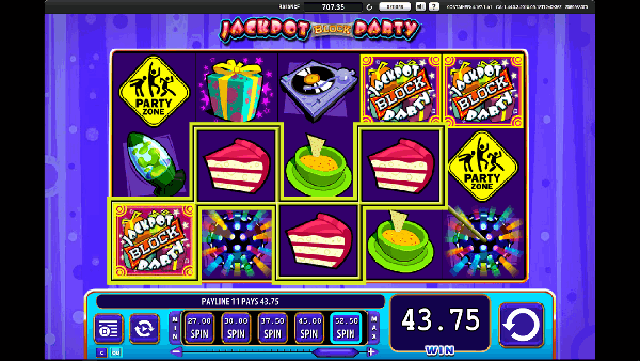 What Is So Unique about Slot Machine Jackpot Block Party?
The main theme of Jackpot Block Party is all about partying. It is a place where you can just cut loose and enjoy yourself. In this game, you have to focus on having a good time. You will be first greeted with tons of balloons and confetti the moment the gameplay starts. You will forget you're risking it in the online Jackpot Block Party slot machine yourself. You would think you were caught up in your very own casino. There will be things like cakes and presents too. All of which can be yours to win more money. The more fun you are having here, the better your wins could be.
As mentioned earlier, the slot is a standard 5×3 layout. You will be playing to win by placing a bet and spinning the reels. After you have set your bet, you must then land a combination of three or more similar symbols. This will award a payout. Land more than one combination to earn more cash. You can do this by hitting them on more than one payline. There are special symbols you can use to earn more money. Many of them are party-related and can unlock new modes and games. Therefore, the more you get involved, the more money you can earn.
Paytable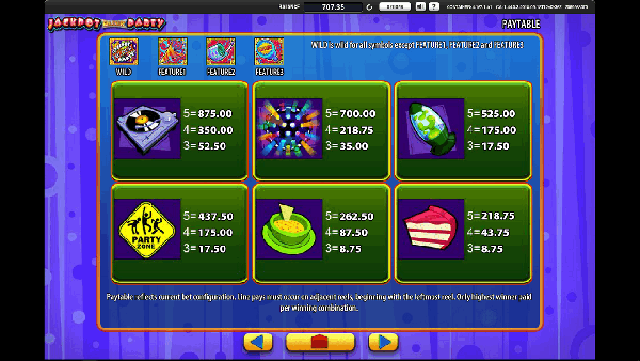 The paytable showcases many of the symbols you can land to win. Pay attention to see what you can get. These payouts will change depending on how much cash you have bet on Jackpot Block Party casino game. The minimum coins you can use is 0.01. The maximum coins you can use is a total of 5.00. They also change based on how many you land. Here is what you can win with the minimum coins value of 0.10:
| | |
| --- | --- |
| Symbol Description | Symbol Value (3x to 5x) |
| Cake | 0.05-1.25 |
| Punch bowl | 0.05-1.50 |
| Sign | 0.10-2.50 |
| Lava lamp | 0.10-3.00 |
| Disco ball | 0.20-4.50 |
| Record player | 0.30-5.00 |
| Lucky number 7 | 0.40-7.50 |
| Present | 0.50-10.00 |
| Game Logo | 1.00-100.00 |
Slot Features
For the bonus features, here is what you can achieve.
The Wild symbol can substitute all other symbols in the game. The only exception is, of course, the Scatter. It can't be replaced.
These Scatters appear as the Feature Blowers which can only spin on reel 1, 3 and 5. Land all three of them to unlock the bonus content. Here, you will be presented with four screens which each represent a different party setting. You can now select a series of presents from these four choices. Each present will reveal an instant cash prize for you. This will add on the total wins you have collected during a spin. You can try and collect all of the presents, but the bonus will end if you open up the Buzz Kill or the Pooper icons. If you pick up the Plunger or the Super-Plunger symbols, this will let you choose presents from the wheel of other screen parties. The best way to earn some big winnings is to unlock all the presents from every party screen.
Have a go at the free online Jackpot Block Party slot machine to try without risking real money. The free Jackpot Block Party slot machine online can be found from the official provider's site. You can also find the Jackpot Block Party free online slot on most review sites as well. When you play Jackpot Block Party slots online for free, this lets you practise at the many bonuses and challenges within—figuring out what works best for you. The better you are at having fun, the better your winning chances can be.
Get ready to play Jackpot Block Party slot game for real money. You can sign up for an online casino account by choosing from the recommended list. Some of which can grant unique bonuses like cashback rewards and extra free spins. The bonuses are different for each casino, so make sure to see what works best for you. You could find options like a bonus wheel with separate benefits. There may be some that offer rewards exclusively for this title. The payment methods should also be looked into. Always check what type of payment supports both the casino and the game itself.
Slot Mobile Version
The Jackpot Block Party online slot can also be played on mobile devices. Smaller devices can let you play anywhere you want, whether you want to play while you're on the go or when you are visiting a different location. You can play it all on Android or Apple devices. These include tablet, smartphone or other such gadgets. Download the app version of the game or the online casino to get started with playing. There will be no drops in quality, and it will be completely compatible with mobile gambling.
Should I Play Jackpot Block Party?
WMS Gaming has made a fine addition to their roster. This is a slot that focuses heavily on the theme of letting go and having fun. Collect symbols that get you in that sparkling mood. Winning streak with the optional prizes can really get you some big cash rewards too. It is a perfect game for all types of players who just want to relax while gaming. The aesthetic is what really sells it—filling it with all kinds of features that relate to having a blast with friends. Whether you are eating cakes or drinking cocktails, there are plenty of parties to visit and try it all.
FAQ
Where can I play Jackpot Block Party for real money?
You can find a list of recommended casinos from the review site, complete with a demo to play first.
Which bonuses are available in Jackpot Block Party by WMS Gaming?
The Pick-Me bonus lets you choose presents from different party screens to earn additional cash.
How can I switch to a Jackpot Block Party real money game?
After playing the demo, there will most likely be a link to a real online casino to let you play for real. However, you don't have to deal with a dealer.
Is Jackpot Block Party safe to play?
The product is fair and safe. The operators should be certified by an official licenser.
Can I play Jackpot Block Party on a mobile platform?
The slot is completely mobile-optimized for all smaller devices.