Quick Hit Slot Review
Do you want classic casino gameplay with nostalgic symbols? Quick Hit slot game is brought to you by the software studio Bally as part of the SG Gaming franchise. The game is a 5×3 reel grid with a total of 50 paylines to aim for a winning streak on. Players can enjoy countless hours of gaming time with its speedy gameplay and incredible gambling potential unlocking bonuses for more action-oriented tumbling. You can try out many other entries in the series—games like Quick Hit Platinum, Quick Hit Ultra and Quick Hit Pro. RTP is calculated at around 94% with a real emphasis on fast-paced potential.
Theme and Features of Quick Hit Casino Game
The major theme for the Quick Hit online slot is all about speed, delivering the action straight onto your computer screens. You will be tumbling upon a more nostalgic feel. It will make you believe you are hitting a real-life slot machine with reels that fall into place accompanied by casino-based sound effects. You will feel like you have dropped right into the streets of Las Vegas entering casinos and meeting a dealer. Even the symbols are all based on familiar icons — full of Bells and Cherries and lucky number 7's. With this, you can be rewarded great amounts of cash from simple gambling.The main features include slot rules like any other. To play Quick Hit slot game, you must first register with a casino that has the game in their browser. Use their payment options and then make a deposit into the slot machine Quick Hit. Use the buttons to activate the reels and then watch as the symbols land. You must land the same symbol three or more times to win a combination. The more of a kind you hit, the bigger the prizes will be. By tumbling upon the bonuses, you can get better chances of winning by triggering a better combo.
Payouts and Paytable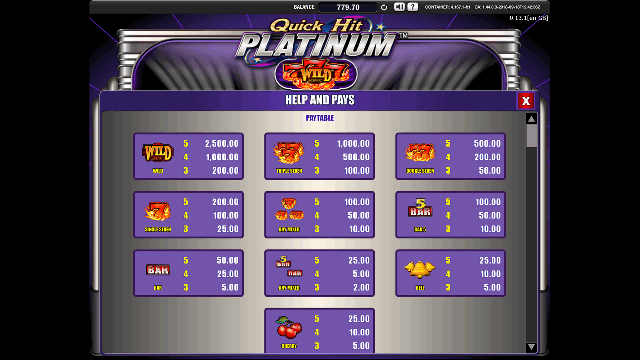 The payouts of the game can be seen from viewing the paytable. This shows exactly how much each symbol is worth. It also shows how many you need to land, specifically to achieve a bigger prize. Be careful because the payouts will alter themselves depending on how many coins have been bet. Here is what you are capable of winning:
| Symbol | The payout for 3 to 5 of a kind |
| --- | --- |
| Mixed 1, 2 and 3 BAR | 2 – 25 |
| Cherries, Bell, 1 BAR | 5 – 50 |
| 2 BAR | 10 – 100 |
| 3 BAR | 25 – 200 |
| Dollar Sign | 50 – 500 |
| Lucky 7 | 100 – 1,000 |
| Gold Wild | 200 – 2,500 |
Bonus Features
Quick Hit slots have all got the classic features you would expect from a product of its time. It is filled with new opportunities that mix together the old and the new. The online gambling industry has even evolved into jackpot features, something that Quick Hit love to use to the fullest. You can be tumbling upon a symbol that grants massive multiplier bonuses. Here is what you can get:
The Gold Wild is the Wild symbol. It can be used as a substitution for a possible combination allowing you more chances of earning a win.
The Scatter is the Jackpot symbol. If you can land three or more of this symbol, it will award you between 5 to 20 free spins. The free spins will also come with a multiplier between 2x or 3x. It is possible to retrigger the free spins if you land more of the Scatter during the rounds.
Landing the Platinum icons can award additional multipliers. If you land four all in a row, this will award a grand total of 25x the winnings gained.
Quick Hit Slot Machine onMobile Devices
It is possible to enjoy this slot on a mobile device if you wish. The game is completely mobile compatible, with the support of either HTML5 software or SCC3. The support comes from the power of Android or Apple devices. This can be in the form of a smartphone or a tablet. The way the mobile version works is through the use of an app. You can download it from the respective store that the casino belongs to. You will experience no drops in the gameplay quality, and the high-def graphics will retain their shape. You will be able to make use of touch screen functions as well.
Play Quick Hit Slots Online for Free
Enjoy the Quick Hit free online slot before you start playing for real coins. The free online Quick Hit slot machine is available directly from Bally powered casinos. You can also find a free Quick Hit slot machine online from a review page such as this one. The aim of the demo is so that you can have fun playing without risking any finances. You can also learn from the demo as well, picking up on the rules so that you are more prepared for what is to come.
Quick Hit Slot Machine for Real Money
Playing for real money will require the use of an operator. Operators must have the product in their library first. You can find this out by seeing if they have a partnership with a provider, SG Digital. Once you are all signed up, you can then start by selecting your payment method. Choose which options to use for depositing and withdrawing. You can find a list of recommended operators to see which bonuses are available for the casino. Some can come with extra benefits like cashback rewards and more free spins—even a bonus wheel to win extra prizes.
Is It Worth Playing Quick Hit?
For those that want to experience that more gleeful era of gambling, the online Quick Hit slot machine is for you. It has a bunch of additional components that make it unique, all the while capturing the classic feel that everyone has come to love from casinos. The name isn't for nothing either. The speedy gameplay makes it a fast-paced adventure that is sure to kick off the adrenaline of the most relaxed player.
FAQ
Where can I play Quick Hit for real money?You can find yourself some helpful recommendations that point to casinos with magnificent welcome packages, including a bonus wheel for more advantages.
Which bonuses are there available in Quick Hit by Bally?
There is the use of a Wild and a Scatter with extra multipliers thrown in to create even bigger rewards than ever./p>
How can I switch to a Quick Hit real money game?
The provider can offer a list of recommended casinos that can be linked directly from the free demo version./p>
Is Quick Hit safe to play?
SG Digital have their hands in plenty of supervisors. A proper licenser has the power to monitor fair assessments for the product's release./p>
Can I play Quick Hit on the mobile platform?
Thanks to improved technology, the product is completely viable for all known mobile platforms.