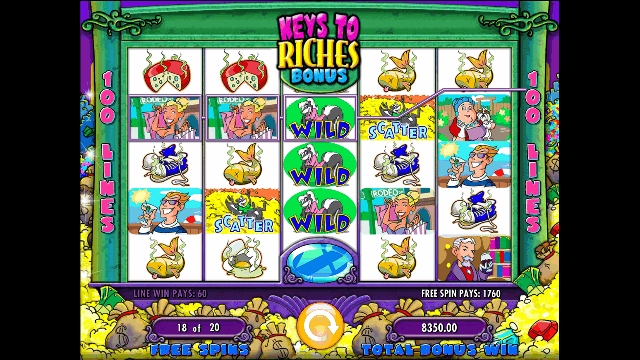 Play Stinkin' Rich Slot Online
Do you wish to be stinking rich? We have just the right slot game for you. Stinkin' Rich free online slot is an outstanding game by IGT. It offers you the chance of making some extra cash as a player.
The Stinkin' Rich casino game comes with fantastic graphics and top-notch sound effects. That's not all. You also have several bonuses to enjoy.
The first official launch of the game was in 1999. It was trendy among players in land-based casinos. It finally made an appearance in the online gambling world in 2016. Several casino players can now enjoy plenty of rewards from the game.
IGT is a popular provider of games with simple gameplay, and Stinkin' Rich is one of them. Its straightforward gaming interface makes it suitable for players of various levels. Read on our Stinkin' Rich Slot Review to learn more.
Stinkin' Rich Theme and Design
The Stinkin' Rich online slot machine comes with a pretty rich skunk. The setting of the slot occurs in the Skunk's mansion. Here, you'll find piles and piles of gold coins. Plenty of shining gold coins surround Stinkin' Rich slot's reels.
The reels also come with plenty of symbols that showcase wealth. Some of the symbols include some junk foods and rotten items that the rich dude cannot resist. You get to spin the reels on a pink marble background. The soundtrack is also energetic enough to increase the fun of playing.
Stinkin' Rich Features
The Stinkin' Rich slot machine plays on a 5-reel, 5-row layout. It comes with 100 paylines. The large number of paylines allows you to enjoy the experience of being a high-roller. Don't fret: not all 100 paylines are active. You have the chance of activating 1, 10, 25, 50, 75, and all 100 paylines. The bet amount can be as low as $1 per line. The highest stake depends on your budget.
You have to make two simple adjustments before playing the game. The first one is choosing the number of paylines to activate. The second one is to adjust your bet per line. Once this process is complete, you can enjoy the opportunities playing the slot machine.
The autospin function ensures that you don't miss any chances. You can select up to 50 automatic spins and sit back to enjoy. The reels stop spinning when the selected spins are complete. You can also control the autospin manually with the stop button. It also stops when you activate a special feature. There are nine regular symbols in the Stinkin' Rich slot. You won't find any of the card symbols in this slot game.
Some low-value symbols are stinky shoes, rotten fish, rotten onion, and rotten egg. The high-value symbols include the rich skunk, a rich lady, and an older man. Stinkin' Rich also comes with the scatter and wild symbols. The wild symbol is a female raccoon.
The raccoon has the word "wild" printed below it. It substitutes for other symbols on the reels. The only symbol it does not substitute is the scatter and bonus symbols.
The scatter, in this case, is a male skunk with "scatter" above it. All the game's symbols pay from left to right on the reels. You win by hitting a winning combination of three or more like symbols.
Bonus Features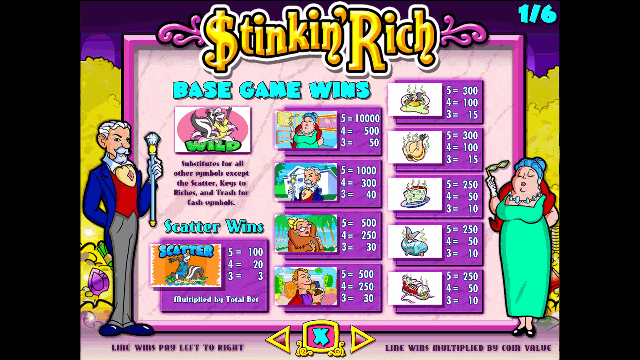 The slot machine Stinkin' Rich is a fun and rewarding game. Its bonus features are among the reasons for this. These features could be key to help you win great prizes from the game. They include:
Key to Riches Free Spins. The free spins hold the legacy of what their name suggests. Stinkin' Rich has two bonus symbols. One of them is the Key to Riches symbol. The symbol can only land on the first three reels. You get five free spins if you're lucky to land three of this bonus symbol on the reel. A great thing about the free spins feature is that you can retrigger it. You can get up to 325 free spins!
Trash for Cash Bonus Feature. The second bonus symbol in this game is the Trash for Cash symbol. Three Trash for Cash bonus symbols on reels 3, 4, and 5 will trigger a bonus round. Here, you'll have to pick up a tile to show either a multiplier or a cash prize. There are three tiles. One of them contains the multiplier. The other two include cash prizes. With this bonus round, you can get up to 40x your initial stake.
Stinkin' Rich on Mobile
The Stinkin' Rich online slot is available on mobile devices. The game is optimized for play on a wide range of mobile platforms. You can play the Stinkin' Rich online slot on iOS and Android devices.
You shouldn't worry about malfunctions or reduced functionality. There's no problem controlling the game, thanks to the improved interface. Also, every feature of the base game is available on mobile. So, sit back and enjoy Stinkin' Rich on your iPhone, iPad, or Android device.
Real Money Game
You may want to play the Stinkin' Rich slot game just for fun. However, you could also make some extra cash from the game. That's where the real money game comes to play. Playing the slot game for real money may involve some risks. Therefore, you need to find ways of being on the safer side often. The following tips will help you:
Play Stinkin' Rich slot online for free. If you're new to gambling or new to the free online Stinkin' Rich slot machine, then the demo version is your best bet. The free Stinkin' Rich online slot machine will help you learn the different features of the game. You will also understand the gameplay, payouts and how to place your bets. Only then should you switch to the real money game.
Trigger the bonus features. The Keys to Riches and Trash for cash bonuses can help you land big wins in the game. The scatter symbols can also help you win up to 100 coins. Hitting a winning combination with the wild symbol can also win you up to 10,000 coins. It is very rare, but not impossible.
Set a reasonable budget. Your budget must be according to your bankroll. Have a gambling budget and stick to it. It would help if you protected your bankroll at all costs. Walking away after a long streak of losses is a good strategy. It will save you from blowing up your account.
Is It Worth Playing Stinkin' Rich?
The 5-reel, 5-row online Stinkin' Rich slot machine could be your way to the world of glitz and fun. It has a good betting range with plenty of great features. You can win up to 10000 coins from the bonus rounds. The Trash for Cash feature and Key to Riches free spins also increase your chances of winning. Stinkin' Rich by IGT is really a top attraction for any casino player.
FAQ
Where can I play Stinkin' Rich for real money?
You can play the Stinkin' Rich slot game for real money at any licensed online casino.
Which bonuses are available in Stinkin' Rich by IGT?
The bonuses in the free Stinkin' Rich slot machine online include the Trash for Cash feature and Key to Riches free spins.
How can I switch to Stinkin' Rich real money game?
Play Stinkin' Rich online slot for free to understand the gameplay. Then you can register an account at a regulated casino of your choice. Fund your account and begin to play for real money.
Is Stinkin' Rich safe to play?
Yes. Stinkin' Rich is safe to play.
Can I play Stinkin' Rich on mobile platforms?
Stinkin' Rich is compatible with a wide range of mobile devices. You can also play for free without download or registration.