The online Zeus 3 slot machine is the third entry in the series, created by WMS Gaming. In this brand-new adventure, Zeus is up to his old tricks once again. There will be new powers to be introduced and new ways to start spinning the wheel. The Greek God of the Thunder and Sky can make combo on even more paylines, fully utilising his god-like abilities with all-new bonus features. The slot machine Zeus 3 can also operate on the 6-reel layout with more segments to land symbols on. Zeus 3 slot game plans to be bigger than before with up to 192 paylines to win on.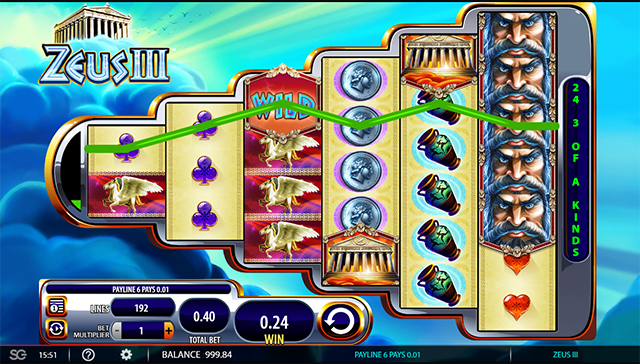 Zeus 3 Casino Game Features
Zeus is said to be known as the king of the gods in the Greek Pantheon. He lives up high on Olympus for everyone below to see. Surrounded by his fellow gods, his purpose is to bring creation and unity to the world. For the third time running, you can witness his tremendous power in full glory. The gameplay is heightened even further thanks to the reel layout. Most casinos have all reels the same size, but this one increases by one segment from left to right. It makes the final sixth reel be seven symbols tall. This allows more paylines to be added and more spectacle in the animations.
To play Zeus 3 slot game, the player must first register with their online casino its available on. Once done so, you can then place your bet and spin the reels. Try hitting a combination of three same symbols. This can earn you a winning streak. More than one combination can be landed at a time. This results in multiple cash prizes to be won in one go. If you land any special symbols, this can help you win more money. Use the slot bonus features to unlock new modes. Play for longer and more money can be yours. It can be enough money to be fit for the king of gods.
What Are the Payouts?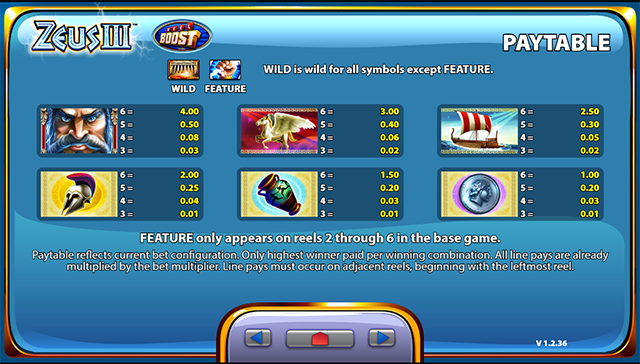 A paytable is an important tool for gambling. This allows you to see what all of the symbols are worth. For Zeus 3 online slot, the worth of the symbols will change depending on your bet. Your minimum bet made is down to 0.40. The maximum bet to be made goes up to 80.00. Pay attention to see how the bet is changed. Here is what you can win with a minimum bet of 0.40:
| | |
| --- | --- |
| Symbol description | Symbol value (3x to 6x) |
| Red heart | 0.01-0.50 |
| Purple Club | 0.01-0.60 |
| Pink diamond | 0.01-0.70 |
| Blue spade | 0.01-0.80 |
| Silver coin | 0.01-1.00 |
| Vase | 0.01-1.50 |
| Helmet | 0.01-2.00 |
| Ship | 0.02-2.50 |
| Pegasus | 0.02-3.00 |
| Zeus | 0.03-4.00 |
In-game Bonuses
As for the bonuses, there are different ways to win more money.
For example, the Wild symbol is the Greek temple. This can substitute all other symbols in the game apart from the Scatter. Another Wild feature can also activate in the form of Zeus. A full reel of Zeus can act as a Wild Reel, giving you more chances to win money.
The Scatter is the lightning bolt. This can only appear on reels 2 through 6. Collecting at least three of these Scatters will award free spins. You will be awarded a specific number depending on how many you land. This also adds a multiplier as well to your cash rewards. Getting three Scatters will award 10 spins. Landing four of them will give you 25 free spins plus a 10x multiplier. Landing all five Scatters on reels 2 to 6 will result in 50 free spins and a 50x multiplier to your total bet. Respins can be retriggered so long as you keep landing the Scatters.
Full Real Money Version Vs Free Gameplay
Play Zeus 3 slots online for free without risking any real money. The free Zeus 3 slot machine online is available from the official website of WMS Gaming. You can also find the free online Zeus 3 slot machine from review sites similar to this one. The Zeus 3 free online slot allows you to enjoy the gameplay without having to spend real money and instead use coins. These coins will act as payment and can be refilled at any time. Simply re-log into the casino game to have all your coins come back. Get some practice into the demo before any real gambling so you can then have enough experience to start winning some serious cash.
You can find the real casino version of Zeus 3 slots by finding a recommended list on the reviews. These will show you towards extra bonuses to use, such as cashback rewards or a wheel of free spins. Find the right casino for you and see what you are into. Note that the RTP of this title is calculated at 96.1% with low volatility. This means that it is perfect for beginners, as it has low stakes. You can start gambling with minimal losses, but usually, there won't be any big wins to gain without bigger stakes.
It is possible to enjoy the Zeus 3 online slot on mobile devices. All kinds of smaller devices are completely compatible with the game's functions whether it is on smartphones, tablets, laptops or anything else. Android and Apple are perfectly designed to make their devices accessible for all kinds of online games. You can enjoy countless spins of this product anywhere you want, ranging from a store on in another's house. There will be no drops in quality, and the gameplay will remain as smooth as ever.
Is It Worth Playing Zeus 3?
Zeus 3 makes many significant improvements with the previous instalments. Its main aspect is the bigger reel grid and increased number of paylines. Everything works well for players looking for that extra challenge. While the volatility is still low, there is still a lot of enjoyment to be had. The increased multipliers and free spins perfectly capture the excitement. The effects that play out when a win is scored is what sells the godlike aspects.
FAQ
Where can I play Zeus 3 for real money?
Find a list of recommended casino pages from the review—some containing new rewards and promotions.
Which bonuses are there available in Zeus 3 by WMS Gaming?
The free spins with bonus multipliers can lead up to 50x your initial bet. Expanding Wilds help you get more chances to win.
How can I switch to a Zeus 3 real money game?
A link to an available casino will be from the demo. Just follow the on-screen instructions to be directed to real money gambling.
The operators have an official license dealer that supervises their games and fairness—promoting safer ways to play.
Can I play Zeus 3 on a mobile platform?
A mobile compatibility is a valid option. You can download it from their website or from mobile software sellers.